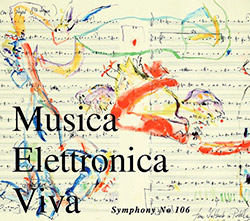 It's difficult to discuss the music of these three men. Earlier outbursts had faint ties to the avant garde jazz of the day, but as technology and time soldier on the music of MEV becomes increasingly complicated. Over the last 5 decades this once viscous collective has been boiled down to the trio present on this disc. Frederick Rzewski's solemn piano intermingles with Richard Teitlebaums's fizzing, molten electronics and Alvin Curran's processed samples. Voices enter the musical conversation and the mood becomes darker. Are they backwards? A foreign tongue? The energy picks up with a brief digital electrical storm. The piano remains, almost indifferent to the maelstrom surrounding it. Sequences appear and subside as new sonorities are introduced.
I am not aware how much of this is improvised since many of the sound events seem to vanish, never to be seen again. The group eventually finds real cohesion as their lines meet in mid-air. A beat of sorts emerges amidst clouds of acid sound. This seems to open the flood gates of structured sound events appearing amidst the free-flowing lines. A narrative is spoken signaling another movement- frenzied and disjointed. Chaotic blasts of noise recall the sounds of war and its aftermath. Apparently Rzewski's grandfather was taken by Cossacks in 1914..."it's more than a hundred years later, and the same thing is happening". We are left with samples announcing "The Greatest Show on Earth" and plaintive piano and electronic slurs that open this hour long composition.
It's a compelling listen with many possible pathways to navigate.
Comments and Feedback: