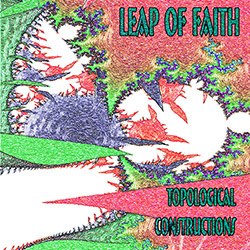 Bill Dixon used to say that a soloist is the smallest orchestra possible. David Peck seems to form ensembles on that premise. Leap of Faith is one of those aggregates in which size, shape, timbre and even instrumental distinction are continually and wonderfully present and blurred, contradiction even the notion of contradiction.
Part of the fun is that there's a whole lotta doublin' goin; on. Just look at the Rabelaisian list of instruments the leader wields to suit his constantly morphing purposes, half of which I can't identify, or the briefer but equally fascinating arsenal of drummer Yuri Zbitnoff. All that timbral merriment foregrounds the fact that performer anonymity is a common occurrence, leaving the listener afloat in a haze of changing style, sound and space. There are certainly times when that legal fiction we still call jazz rears its head, or threatens to do so, but it quickly submerges beneath orchestral shades and crystalline percussion avalanches. It is absolutely wonderful to hear cellist Glynis Lomon, whose work, speaking of Bill Dixon, I remember fondly from the 2007 Vision Festival and who, like everyone in Leap of Faith, is in excellent form here. There are certain points at which delay, again conjuring shades of that pioneering and now departed trumpeter, comes centerstage, but electronics are in play less frequently than on other Evil Clown releases.
As musical trope and idea ebb and flow, and as melodic simplicity and overtone complexity vie for prominence, the sound of the room is ever-present. The recording has a beautifully resonant quality, not overly reverberant but certainly live, that is lacking from so many documents of improvised music, and the room functions almost like another instrument, lending its own character to every sound it contains. The net effect is a sense of live music making and its attendant excitement and discovery in action as we're let in on the processes behind its creation. This is music delightfully and consciously shorn of idiom and the more confrontational for it, even during its most peaceful moments, of which there are plenty.
Comments and Feedback: