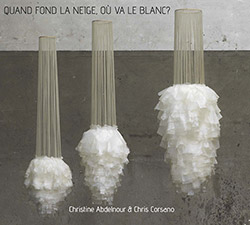 Though perhaps not a household name, Christine Abdelnour has nonetheless been playing and recording her own brand of saxophonic language for over 20 years, developing a unique and fascinating sound world, most often in duets with people like Magda Mayas or Pascal Battus. Chris Corsano should be more familiar to anyone into free music, as his playing appears in a wide variety of contexts, from the splatter and fire of his duo with Bill Orcutt, to the what-the-hell-is-that noise of Vampire Belt.
On this disc, whose title translates roughly as "where does the white go when the snow melts?", Abdelnour and Corasano meet to construct a fungible universe of sonic interplay. Tactile even. "Opening Umbrellas Indoors" pits pitched wind — more trumpet than sax — against a repeating weird rasp that rises in pitch very quickly before dying out. All this amid held gurgle and flanging metals. A riveting introduction and an announcement of what's to come. The textures on display, along with the rapidly evolving rhythmic interplay should hold the listener's attention like a vice. An explosion of high-pitched information during "Sparrow's Tea" is frantically beautiful and the duo develop it by manipulating the timbre in such a way that the whole enterprise seems to be spinning around the room. Dropped into the middle of this display one would be hard-pressed to name what instruments were gushing this amazing dialogue.
It is very often the case with this recording. "Below The Hull" pairs moisture and thumps, and "The Mended Lid" displays Morse code wind and head-high squeal in high speed discourse. When the pair do eventually resort to more "normal" sounding sax/drum interplay ("Sitting Still While the House Next Door Burns"), it comes as a surprise, another facet of their constructions. Turn the diamond in your fingers and listen to the the light dance.
Comments and Feedback: