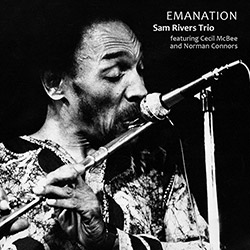 Rivers' initial recording with Cecil McBee and Norman Connors, Streams (Impulse, 1973), remains for this listener a high water mark in his career, an extraordinarily focused improvisatory performance imbued with a dramatic arc of a well-planned composition. Some excerpts from similar concerts were released in 1975 on Hues, but this is a very welcome and very strong pair of sets from June of 1971. If it doesn't quite match Streams, it comes more than close enough to attain required listening status for Rivers aficionados.
The first set (the two are about 32 and 45 minutes in length) begins with Rivers on tenor, as ferocious as I've ever heard from him, fabulous, gracefully subsiding about 11 minutes in, ceding way to a marvelous, largely unaccompanied solo from McBee. Rivers returns on flute, delicate and probing before fluttering upwards into a higher gear. Connors, who would unfortunately veer toward the slickly commercial in upcoming years, is a joy throughout, fluid, responsive and imaginative. A brief, nicely bumpy bass/drums duo allows Rivers to move to the piano where one easily hears vestiges of his 1969-71 tenure with Cecil Taylor, though it eventually grows more tonal, even romantic, before finally erupting and ultimately evanescing. A very fine performance.
The soprano saxophone wasn't used in the first set but starts the second one, Rivers holding forth on it for more than twenty minutes, raising and lowering intensity along the way, from blisteringly hot runs to contemplative themes. When he lowers the sax, he begins to vocalize, as one would hear again during Streams, before turning to the flute, soon developing into a relaxed, loping section with McBee and Connors adopting "traditional" supportive roles. Then, however, matters change and inject a curious, even scary element into the remainder of the set. Rivers switches to what sounds like a slide whistle and once again begins to vocalize, this time with harsh screams and guttural whoops, eventually exclaiming, "Look out! Look out you motherfuckers!", segueing into a kind of glossolalic speaking in tongues, reverting to anguished screams and low, morose moans. As a spectral, again Taylor-inspired piano enters, things quiet down for a few minutes before a new, more intense than ever storm emerges, the shouts recurring, now echoed by the other musicians, evolving into an energetic back and forth, led by Connors' drums, gradually ebbing away into a welcome, contemplative pool.
Excellent, inspired.
Comments and Feedback: