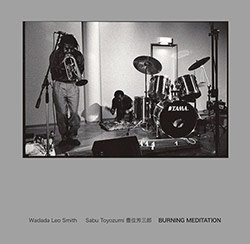 Consciously wearing the title of athlete denotes that one excels with grace, confidence, stamina, and excellence — and, with some sports, the person is quick as hell and displays supernatural abilities beyond their peers. There is all that talk about "no I in team", but the catbird seat is assumed by being number one.
As out of place as that paragraph is in a publication dedicated to "unusual and experimental music", it resonates through the history of so-called Free Jazz, a "genre" critics and fans often label "athletic" when a gig starts cooking. Performers need to demonstrate a virtuosic precision and supernatural speed to be esteemed among the greats. Faster, faster, more riffs...and then the thrilling impact and overwhelming chaos can fade into tediousness. There is flash and there is substance — and flashy substance / substantive flash — and these can be found at any pace.
So when Sabu Toyozumi starts with rolls and cymbal crashes and Wadada Leo Smith's lips form speedy trumpet blurbs, the initial blaze of "Creative Music-1- Red Mountain Garden, Wild Irises and Glacier Lines" leads the listener to believe we're about to bear witness to development on a theme that only ends when the players put down their instruments (or with a skip button).
Now do not get it twisted. This momentum slows to a coast, and the duo divides the number of notes to stretch out tension over several minutes. There is (literally) a lot of breathing room between Smith's pointillistic runs, melodic shrugs and sighs. Toyozumi changes tempo here and there and periodically dips into a bag of tricks throughout the sixteen-minute work; he breaks out a little woody stick pitter-patter, creates a wind chime-like flow with pan-rhythmic clamor (Smith answers this one with brisk flute lines), eases out some subtle tom-tom flams, stumbles into a lugubrious march, and sometimes simply remains silent.
While "Burning Meditation — Uprising" lingers on this palette, the rest of the works explore more color and an expansive, inspired bent. Smith begins "Voices — Agano River Flow" with sloppy mouth-piece honks as Toyozumi strikes every piece of metal within arm's length; both fade out and return with several minutes of sultry trumpet song on top of a very serious focus on wind-up noise-maker. "Don Cherry, A Silver Flute Song" features at least three different woodwinds and melodies sampled from as many continents. The star of the show is the penetrating, stop-everything-you're-doing "There Are Human Rights Blues" with "blues" being an understatement. Accompanying himself on kalimba, Smith sings with much longing and sorrow-tinged hope, recalling legend Skip James — and his droning open D tuning — at his best. It's that awesome (and haunting).
The beginning and end of closer "Stars, Lightening Bugs and Chrysanthemum Flowers" calls to John Cage's time-based compositions where two players and multiple events taking ample, independent strides may or may not meet at some point, the results being awkwardly organic and rich.
Smith and Toyozumi developed their craft from years (and years, and years) of practice drills and conditioning minutia, but they choose to channel it, not scoring 50 points a game, but with 200-foot free throws from a helicopter and dunking with their feet, so to speak.
Comments and Feedback: