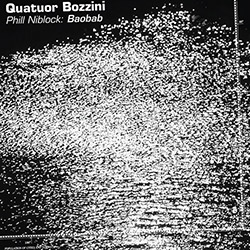 When dealing with Phill Niblock's music, you pretty know what you're in for from the outset: A thick, massive wall of sound within which you'll encounter all manner of activities. Much of the intrigue involves the instrumentation utilized and how, if at all, it's augmented.
For the two works presented here, 'Disseminate as Five String Quartets' and 'Baobab', five "multiples" of the quartet are used, with twenty different instrumental lines. Each lengthy line, essentially a drone, has a designated degree of sharpness or flatness around a given pitch and the players create tones as seamlessly as possible, resulting in one continuous, fluctuating stream. Naturally, the small variations in pitch create pulses and throbs that become one of the basic attributes of the work. More to the point, they accentuate the richness and nuance of the overall sound, a huge, breathing, orchestral mass. The amount of information packed into this music is astonishing, allowing the listener to hear detail after detail, pattern after pattern, relationship after relationship.
Apart from a difference in basic pitch, there's not so much to distinguish the two pieces; both afford the same luxurious, cavernous, ultra-resonant immersion into Niblock's unique sound world, one of the deepest around. As always, beautifully interpreted by the outstanding Bozzini Quartet.
Comments and Feedback: