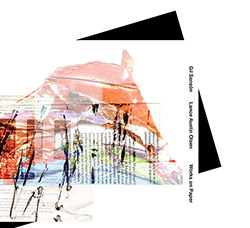 Gil Sanson and Lance Austin Olsen are both artists who work in sound as well as graphics, and this 2-disc set is a blending of these disciplines. Each artist chose a graphic score by the other to interpret, in two separate renderings each. Luckily for us, parts of the scores in question have been reproduced on the cover. They are both complex, layered affairs, as is the music produced from them.
Sanson's first pass at Olsen's "Pra Min" (subtitled "Works On Paper") opens with an electric humming soon joined by crackly textures and what sounds like a field recording of rain. Tones are introduced, along with the voice of Alan Jones, who ponders a vegetarian conundrum. Distant, warbly music is just barely audible with louder plucked guitar notes. "England won the world cup, and the hotel burnt down." Hisses and piano notes from an older recording of Sanson's roll by, and fresh sounds and textures are introduced frequently, varying in presence and volume. The voice samples that keep cropping up are not used in a narrative way, but are rather just another layer of the whole, perhaps a bit too focused on idea and therefore a bit jarring, but they pass quickly. Later the textures become more electronic in nature, as drones and serrated hums ebb and change timbre. The second pass, subtitled "Fail Better" (and which was actually recorded first), is sparser, using fewer components. The quiet/loud juxtapositions are more extreme as well, and this time the voice is singing rather than speaking, albeit very briefly. Around five and a half minutes in there's a really nice section of guitaristic fumble backed by super loud room ambience, before things thicken up considerably, with sweeping tones, melodica discords and distant traffic sounds. The big difference here is that there are no sampled or pre-recorded music, perhaps the whole piece was recorded in one pass.
Olsen's two interpretations of Sanson's "Meditations" are presented on the second disc, again in reverse order, and again one version is considerably thicker than the other. "Meditations #3" opens with a slowed down found cylinder recording of a choral work which sounds rather spooky to me. Gradually other textures creep in, including a section of an older Olsen work, "Craig's Stroke", with its repeated admonition "don't hit me". Electronic squiggles and fuzzy tones accompany. A single repeated chord clangs out against a rolling wooden grinding sound, before a more complex section consisting of select bits of earlier sounds swells up. On the whole it seems that introductions of new material happen more slowly in this piece, and (to this listener at least), there is more of an emotive, even cinematic, feel. Perhaps almost narrative in an alien way. "Meditations #2" is a bit less complex, with Olsen listed as playing only guitar and amplified objects, but just as dense and immersive as the previous piece. Throbs and wheedling peeps repeat, giving the whole a cyclic feel, while crackle and whirr are added over the top. Things thicken as a low drone is introduced, the objects taking on a castanet-like timbre. A big chord that resembles an organ rises and falls. Controlled feedback and a beautiful swelling low end the piece.
It would be interesting to find out how these gentlemen went about translating the painted collages into sound, but barring an actual conversation we'll never know. Perhaps a quote from Gil Sanson might be helpful though: "At some level, I find no distinction between painting and sound making. The processes are similar in essence and they seem to come from the same place."
Comments and Feedback: