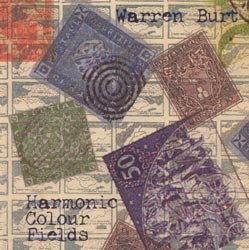 Listening to drones - or music based in and around them - is a complex procedure. Among other considerations, one rarely, if ever, hears the drone by itself, in isolation. Because of the nature of distinctive overtones giving each sound its distinctive character, even listening to, say, an Alvin Lucier piece for sine-wave generator - which generates a "pure," overtone-free drone - results in spacial and psycho-acoustic accumulation and sympathetic vibrations that any single tone will pick up along the way from generator to eardrum.
Which is to say, the involved nature of drones and their hearing spans the history of musics sacred and the profane and listening to them can be an involving, powerfully revealing experience - although, if you're like me, a first listening to Warren Burt's new cd might suggest otherwise. Harmonic Colour Fields consists of five long pieces, each, as Burt observes in the liner notes, "descended from the 'drone' pieces of such composers as LaMonte Young, Charlemagne Palestine, (Harold) Budd" and Burt himself. The quotes around "drone" here are appropriate, since, properly speaking, these pieces are not drones exclusively but intriguing extrapolations of extended microtonal intervals derived from the overtone series or non-12-tone, equal-temperament scales. The close frequencies of these tones do not create new drones but very rich, sliding microtonal harmonies, suggesting a harmonic fog - or "colour field," in Burt's preferred term. The pieces take these tones and a variety of extrapolations realizes them by sequencing software within which Burt entered the notes by hand. These pieces are, in turn, played by the nearly obsolete (even in the 1996-97 period when these pieces were composed) Roland Sound Canvas - Burt's enthusiastic endorsement in the liner notes refers to the no-longer-manfactured sound module "the world's best cheap solution for fine tuning microtonality (and they're not even paying me to say this!)" He was maybe expecting they would?
The effect of this admittedly cheap solution's cheesy timbres and the long-form explorations of nearby tones left me nonplussed in my first few listens to the cd, which seemed to offer only five barely differentiated microtonal blurs, like an orchestra of DX7s with broken pitch wheels. Successive listens have reinforced not only Burt's unforced appreciation of overtonal complexity but his canny strategies for utilizing his materials. Burt admits that "any sense of melody is simply the result of how the harmonic material is articulated," and while that articulation does not allow for "melody" in any conventional sense, these contemplative pieces permit a listener to ultimately luxuriate in the eerie, austere harmonic baths they generate.
The first piece, "Portrait of Erv Wilson," sets the tone for what's to come. Based around a pre-Pythagorean mathematical table, the "Lambdoma," this is, as Burt notes, the most consonant piece of the collection, as well as the most conventionally melodic of the bunch. The sensibility, here as elsewhere, is close to the undulating chromatic cascades of the recent guitar-looping "Soundscapes" by Robert Fripp (as opposed to the more severe diatonicisms of the first-generation "Frippertronics" loops). That comparison, however, refers more to the ebb-and-flow drone dynamics of these works than a direct similarity in content - this work's "consonance" is relative only to the more intense microtonality to come.
"Portrait of John Chalmers" follows, taking a Western equal-tempered concept - triad chords based on stacked "thirds" - and applies it to a 24-tone equal tempered scale. Each successive triad is quietly sounded and the movement from low to high triads, intervallically speaking, suggests a shift from "minor" to "major" scales ... and a few in-between. "Adjacencies (A drone on breaking my kneecap)" - which, as Burt relates was "written under morphine in a hospital bed in Amsterdam " - confounds the ear with tones of less than 17 cents difference between them (the distance between, say, C and C# is, for example, 100 cents). Utilizing a timbre that suggests sawtooth wave oscillation, the closer in intervallic distance each sounded tone-cluster has, the more "beating" of vibrations sympathetic and otherwise are generated, making for a strangely calming piece that's as soothing as it is serrated.
Matters get conceptual, perhaps even astrological, with "11:21:23 (A drone for Mom and Felix's Birthdays)" - Mrs. Burt and composer Felix Werder were born two days apart - where the tonal material is derived from the harmonics and subharmonics 11, 21 and 23, with inversions and other versions of the chord laid over the original triad. The timbre is more square-wave hollow on this piece, and quieter still. The closer "48=>53; 53=>48" applies the harmonics of 48 through 53 onto the subharmonics of 53 to 48, resulting in the most superficially "dissonant" work on the cd. It's also, given the closeness of successive tones, the one piece closest to a continuous drone, but a continually shifting, harmonics-rich drone that sounds like a near-relation to LaMonte Young's mighty Dream House drone, but with the gradual changes over time in the Burt piece beguiling the ear with higher register "melodies" and a long view of a form working itself out over time.
As with all microtonal works, it takes a while for the ear to acclimate itself with nonstandard Western tuning sensibilities - this, combined with the unvarnished, limited timbral palette made available by the Sound Canvas, makes the molasses-like outpouring of infelicitous FM-synth harmonic colors on Harmonic Colour Fields feel like very slow going indeed at the outset. Give it time, though - you'll have to anyway. Using these very simple materials in sophisticated ways, Burt's pieces have the flavor of fin de siecle-ital plainsong: minimalist in the particulars, pure and profound in their realization and multiple implications.
Comments and Feedback: