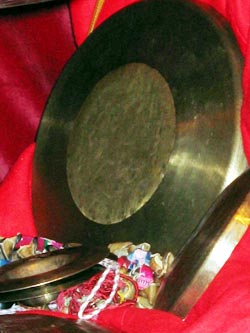 Back in the days when drummer Susie Ibarra was working with some of the hardest musicians in town, she used to hit a fierce set of drums. She had to, to keep up with horn players like David S. Ware, Assif Tsahar and Rob Brown. But in recent years she's gone soft at the edges, working with Pauline Oliveros and in her own romantic suites with Craig Taborn and Jennifer Choi. Soft isn't necessarily bad, but her own work has felt watered down. So it was good to see her in her recurring duo with John Zorn, and to hear her forced to push (and even drown out) Zorn's little alto.
Zorn gave her lots of room, at one point holding a single, wavering note for minutes while she varied rhythms below him. He also kept things moving through their series of short pieces, playing one hard, the next sparse, another with a sephardic tinge. Ibarra responded with gongs, soft mallets and hand percussion, beating the traps but not limiting herself to them.
Zorn didn't hold up as well when Ibarra went delicate. His raspberries and mouthpiece squeals only uglified some of the drum parts, and his jumping between noises didn't always work with her elegant settings.
He more than made up for it, however, with the second set of the evening, a meeting with one of his heroes, trumpeter Wadada Leo Smith, in their first public duet.
A horn duo can be a difficult thing - spare, shrill, hyperlinear. But Zorn seemed to have something to prove. He wasn't just sharing the stage with Smith but arguably taking the role of Anthony Braxton, one of Zorn's most apparent forefathers and a saxophonist who has also played in duet with Smith (even on this same stage five months earlier). As a result, Zorn's playing was the strongest it had been during his month of concerts at Tonic. He listened intently to Smith, often following close on his heels or taking leads and pulling back with an unusual deference. Their second duet found them in a remarkable start-and-stop mode, leaving moments of silence and anticipating each other's movements.
They played in remarkable tandem, bouncing leads off each other, sometimes joining together in them, sometimes dropping below to let the other solo. After a 15-minute first piece, they brought Ibarra up, whose soft mallets lent a foundation and allowed them to open up. Ibarra also joined them for a harder improv later in the night, that included a great, prolonged duet between her and Smith. As a trio they worked so well together that a head, or at least a groove, to which they could return seemed missing; they deserved an opportunity to revel in unity.
Comments and Feedback: