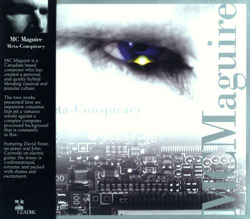 MC Maguire is a modern composer, working in a wide variety of styles that includes concertos, dance works, soundtracks, and even pop music. His projects include a recent soundtrack for Nick Vitis' award winning film "Polychroma," music for the Comedy Network's Skullduggery series, commissions for works including his Piano Concerto, which was performed at Lincoln Center in New York City. In the early nineties the Village Voice proclaimed him 'the most irritating and spellbinding composer since Philip Glass's Einstein on the Beach." The latter is an apt comparison, as Maguire tends to work in a melange of styles that blends and mashes compositional elements in coherent but bewildering ways.
"A Short History of Lounge" started as a dance commission for the choreographer Cornelius Fischer-Credo, and was originally written in 2001. This is an adaptation of that work, expanded into what Maguire describes as a 'faux-concerto' for piano and CPU. As he explains, the structure of the work is a quasi-rondo sonata, a large scale instrumental work that returns to a mutated Rumba theme where ecah movement is initiated with what Maguire describes as a Beethovenesque repeated note motif. He also explains that the title is a reference to "A Brief History of the Universe," only applied to the mundane, mathematical profusion of real time.
Heavy sounding stuff, but the results are much more enjoyable, if a bit mind-boggling. Using a Macintosh built-in voice to introduce the work, the piece displays it's density immediately, in a mix of beautiful melodies and percussive elements connected with computer trickery and mutations that quickly lead the piece in a diverse set of directions. Genres are absorbed, chewed and regurgitated at an impressive rate; it would be difficult to characterize the work in any particular way, except to say that it embraces whatever it encounters, is sometimes frenetic, sometimes tongue-in-cheek, and often resolves to something beautiful. Maguire understands the need for dynamics, and gives the listener a chance to catch his breath before diving into another intriguing and engrossing section. John Oswald's Discosphere is the closest connection I can make to this level of layering, or perhaps Stevan Tickmeyer's Repetetive Selective Removal of One Protecting Group for it's rapid genre collisions and constrained density.
"Got that Crazy, Latin/Metal Feelin'" is another major work commissioned from Giorgio Magnanensi, director of Vancouver New Music. This is a darker and even denser work for small orchestra, electric guitar and CPU. The theory behind the piece involves a 49-chord progression with a tempo structure derived from harmonies dictated by sampling transpositions. On this drifts latin melodies of pseudo-60's Brazilian pop tunes, which subdivide the chord progressions. Again, a technical description that belies the interest of the final work. True to its name, this really is a crazy piece that juxtaposes latin and metal guitar sections with unexpected ease. The guitar work is handled by John Gzowski, a new music guitarist and instrument maker with interest in micro-tonal music - he can be heard on the Victo release by the Paul Cram Orchestra "Camping Out," as well as releases on Quantum, Sire, A&M, and numerous independent releases. His playing is technically superb, often dark and distorted, sounding at times like John McGlaughlin in his Mahavishnu days. The piece moves fluidly and quickly between sections, occasionally laying back only to recharge for the next perplexing and fascinating section. Maguire himself can be heard on vocals in the somewhat distant "latin pop tunes," along with Christine Duncan and Sam Sinanan. Maguire's studio skills are impressive, and the recording benefits from a variety of aural tricks. A massive and amazing modern compositional work.
Comments and Feedback: