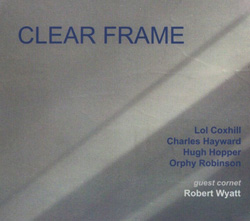 A modern-day supergroup of sorts, Clear Frame is Lol Coxhill on soprano sax, Hugh Hopper (ex-Soft Machine) on bass, Charles Hayward (ex-This Heat, Camberwell Now, etc.) on drum kit, and Orphy Robinson (a sideman for Courtney Pine) on keyboards, steel pan, percussion and FX. Joining them on this outing is Hopper's one-time band mate Robert Wyatt on cornet. The program is freely improvised and well edited, sounding as if excised from a longer session. All the players stick to fairly traditional ways of playing, and the interplay is lively and constantly evolving.
"Clean Slate" opens the disc with a very quick pointillist intro, giving way to short arpeggios on steel drum and wavy melodies from the horns. Hopper finds a fragment to repeat and Hayward suggests time with brushes. Throughout, Wyatt hangs back, occasionally sparring with Coxhill or spattering quick ideas when the saxophonist takes a breath. "Tin Plate" (all of the album titles rhyme) is the longest track at 15:00, which teases in the beginning with stop/start stabs and gradually commences a rhythmic juggle with Hopper keeping time and Hayward circling around him. Coxhill swings and Robinson interjects metal comments, switching instruments occasionally to lay chords down or squeak and buzz in the background. His vibraphone suggests piano comping on "Better Late".
Further standouts are the hard charge of "Noise Gate" and the circus atmosphere of "Paperweight". Surprisingly, Hopper's bass sounds eerily similar to the way it sounded all those years ago, modern studio sonics or no.
Any more?
Comments and Feedback: