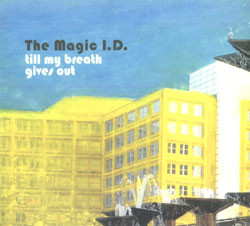 Erstwhile Record's first foray into "pop" music won't strike many as being in a pop mold, but it does extend the understated forms of electro-acoustic music into more embraceable yet still abstract song territory. lowercase song forms, you think? Not completely, but there are so many tonal and minimal aspects to this album that the comparison has to be made. It's probably more accurate to say that this blends the sensibility of minimal ea-improvisation with the avant/minimal compositional world, adding a song sensibility that understands and plays with popular form. The pieces have a strong use of dynamics and harmonics, with unconventional repetition and rhythm, a detached but clear vocal style, wielded with a subtle hand that implies the concentrative interaction of improvised music in conjunction with strong compositional skills.
Michael Thieke is perhaps best known for his work with on the Creative Sources label, alone and in a quartet with label leader Ernesto Rodrigues; he's also a part of The International Nothing, another fascinating minimalist recording group which, not surprisingly, has all of the players on The Magic I.D. at one point or another. Clarinetist Kai Fagaschinksi has worked with vocalist and electronics artist Christof Kurzmann on their excellent duo record under the name Kommando Raumschiff Zitrone, First Time Ever I Saw Your Face, covering the Roberta Flack number of the same name, along with other songs of delicacy and a hint of space's massive vacuum. Kurzmann has also recorded with John Butcher on The Big Misunderstanding Between Hertz and Megahertz. Margareth Kammerer is also heard as a vocalist on Otomo Yoshihide's ONJO New Jazz Live Series 1 & 2.
"True Holiday" opens till my breath gives out with a Kafka-esque quality of distant despair in the dual tonal clarinet work of Thieke and Fagaschinski. They practically birth the album in long coloured tones that suddenly break into Kammerer's impassive vocal, telling us that she can prove that we've met before. In fact, in an over-the-shoulder way, one almost shivers to feel that they've been listening to this song for years without ever noticing it. That implication is prominent, a distantly familiar soundscape and subdued words, ideational tales that carry an isolable openness; they simply make sense when you finally hear them.
"Martin Fierro" is the most song-like of the album, backed by the strumming guitar of Margareth Kammerer. It's a pretty piece in its way, and acts as a bit of relief from the remote intensity of the balance of the songs. "Loopstuck" shows the stylistic border for this band, coming close to silliness in its plaintive sing-song quality, ultimately brought back by Kammerer's entrance with the warmly pale abstraction that makes these pieces work. "Wintersong" is an extraordinary example of what this band is capable of, Kurzmann's voice carrying a European pathos in a song that parallels the starkness of winter with the colourless march of nation states. The song evokes an Art Bears sensibility while only needing a hint of their instrumentation. The intensity of tones and their intersection makes a sort of pure tension that hunches your shoulders as though something were about to drop out of the sky, using urgent siren-like dissonance, disturbed thumping sounds, and electronically pulsing panic buttons. When the music breaks free of the instrumental section for the final lyric it leaves you expecting winter to wrap its frozen arms around you, a superb example of how less can be so much more.
Comments and Feedback: