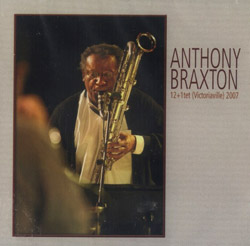 On his second live disc with this group of musicians, composer and reeds master Anthony Braxton, one of the pillars of the art of free jazz, performs his ebullient epic composition No. 361, a 70 minute tour de force that packs so much of a punch that the time just seems to fly by.
Braxton fans are treated to a mature work that is a summation, in a way, of most of Braxton's musical concerns: the play between form and free improv, the mixing of timbres, the exploration of pulse fluctuations, the variations of density and the personality that each instrument and each instrumentalist brings to the aforementioned. For new listeners, this is as good a place to start as any, perhaps better, since this is the work of a musical mind at the height of his powers, who arrives with decades of musical exploration behind him, but who has still lots of creative juice. A doyen of the jazz tradition (even though some of his critics have placed him outside of jazz and Braxton himself avoids the label) the composer is joined by 12 people who understand and share his musical vision and who are, for the most part, long-time collaborators, resulting in, as the liner notes put it, "an amalgamation of musicians fully stepped in his oeuvre."
This multi-voiced, kaleidoscopic opus has the drama and the architecture of a symphony, developing kernels of themes as it does, and returning to composed cells which are batted back and forth, among the players, in a spirit of collective exploration of the musical possibilities of the preplanned ideas, that amount to topics of conversations and themes for riffing on. The dynamics of the music can also be compared to a sport like basketball, where each player at any time can have possession of and move with the ball, but it's passed around so fast that it really is more about the whole team than the individual. Kind of like democracy in action, as is claimed by proponents of jazz as a reflection of the American spirit.
Nearly all 13 musicians play more than one instrument. These include the expected family of saxophones, clarinets, brass, flutes, percussion a guitar and bass. But there are also shell, euphonium, bassoon, alto and bass flutes, piccolo, a trumpbone and a flugelbone (a slide trumpet and slide flugelhorn?).This is just one facet of the mathematical effect, geometric, to be more precise, as the ball has so many different trajectories to line itself along. At the same time, there's lots of listening going on, which is an essential for this kind of free-spirited music to work.
Sometimes cacophonous, sometimes lyrical, sometimes intensely rhythmical, other times lilting, this side runs the gamut of emotional and musical inventiveness. And the music is always moving. This concert was surely quite the treat for the audience at the musique actuelle festival in Victoriaville, Quebec on the 20th of May, 2007, where it was captured for posterity.
Comments and Feedback: