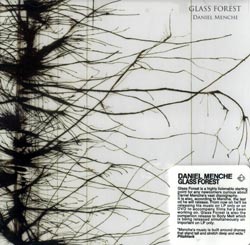 Menche's Glass Forest crystalizes the essential tensions of his previous works. Of the three sections, the first has a boisterous, bustling energy, built around clanging corrugated percussion thistles crunching and sparkling around and against each other. While the physically punishing frequencies would come to assume an almost tyrannical presence in past records, leaving a frustrating yet gripping lack of space, and hardening into an extravagantly sinister music, here they remain forever pliable while finding some stability on an elevated though habitable peak.
In thus not eschewing moderation as mere masquerade, Menche is able to terrorize these compositions with it. In many places, the basic threat of violence or explosion is more rousing and unnerving than its actual materialization. The second segment begins spare but builds to an almost claustrophobically blanketing state. Unlike past efforts, however, the steely dread is shadowed by a generous, inviting warmth. A denouement brings the piece to a close, as the dense multilayered complexity of percussive activity subsides, and clouds of glassy overtones float into earshot and evanesce.
Owing to the limits and distance that these works enable, the elemental strength of the pieces is matched with a certain conceptual intensity. Without quelling his vision, the third and final selection forges many a fascinating tie with the rhythms, order, chaos, and beauty of forests. Glass Forest doesn't therefore stand at an extreme end of the spectrum, but however paradoxically, its more organic snarl makes this another jackknifing bend in Menche's impressive catalogue.
Comments and Feedback: