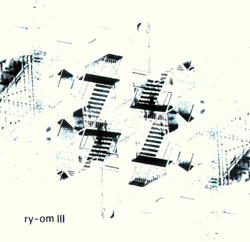 Someone jumpstarted Portugal's muted underground experimental scene; either that or substances abound in the country's waters that've lit the aquifers afire. Ernesto Rodrigues' indigenous Creative Sources label has quietly, undemonstratively, gradually assumed an impressive stature as one of the most forward-thinking concerns bisecting the new jazz/electroacoustic interface. Though formally launched in 2001, across an astonishing 123-release strong catalog there's enough variety to keep both pundits and punters' ears alike upwardly pricked. Names known vie for attention with noteworthy up-and-comers, concepts volley for position, acoustic instruments mimic electronics and vice versa; one thing notable about Creative Sources is that, whether you absorb the entirety of the catalog en masse, or choose your preferred styles, you can't accuse Rodrigues' and crew of anything like stagnation or errant boredom.
The label's never been shy of exploring borderless musics (propagated by borderless musicians), but a recent clutch of releases reveal a distinct fondness for onkyo-esque electronica where procedure and texture trump composition. Ry-om (one Tom Shelton and Ryo Ikeshiro) are newcomers on the scene, but the shapeshifting mores inhabiting III could have just as easily found a home on Günter Müller's For4Ears imprint as on Creative Sources. Laptop is the duo's weapon of choice, augmented by acoustic and electric guitar, no doubt bled dry of recognizable characteristics in the service of some resolutely compelling aural structures. "3.1" pivots on an axis built on wow and flutter; revolving-door pulses, quickfire blips, and subtly resonating frequencies dance like tiny gnats over a watery membrane. "3.2" lets cascade some trebly acoustic guitar pickings over the duo's "feedback loops" that shift morosely below further strangulated strings. The fifteen minutes of "3.4" are a dazzling display for the senses: both artists massage their full inventory of sounds to unveil a decidedly "toxic" ambience comprised of machinic whirrs, Subotnick-like buzzes, storm clouds of fragmented hard drive spittle, firework aftershocks.
Cruising across the basal ganglia of their respective laptops, Ry-om proffer what could be coined improv concrete, hacking and sculpting software to achieve idiomatic ends that wholly justify their means. All categorizations aside however, III shares spiritual kin with Müller's own Eight Landscapes, and is just as superb a piece of work.
Comments and Feedback: