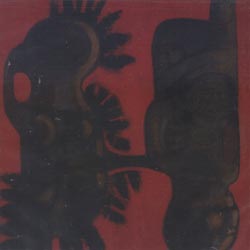 At this point in time, Joe Maneri should be recognized as a pilgrim in moving jazz from its blues based roots. Although his recording career didn't begin until he was past 60, the saxophonist had long worked in incorporating Greek, Turkish, Syrian, Jewish, microtonal and 12-tone systems into jazz settings by that time. His 1963 demo for Atlantic not only showed a prescient sensitivity for synthesizing musical forms — something that had become popular in New York by the time of its release as Patriots Nine by Avant in 1998 — but it was a welcome glimpse into the early efforts by a man who, by that time, was recording and performing extensively with his son, violinist Mat Maneri, and the best of the Boston / New York improv corridor.
Peace Concert, recorded shortly after the Atlantic demo, is only the second opportunity to hear Maneri's early work. A duo with drummer Peter Dolger, the concert is much more of an open improvisation than what's heard on Patriots Nine, and again shows Maneri to be well ahead of his time. It's a slow, graceful, 25-minute exploration of the sort that few would be doing for at least another decade. The most surprising thing here is to discover the free-form player; Maneri was not just working in new approaches to composition but was also ahead of the curve in spontaneous musical discovery.
Atavistic has done remarkable work in uncovering unreleased or long-forgotten sessions on its "Unheard Music" series, and a discovery of a Maneri tape is more than exciting news. It should be noted, however, that the release is the effort of diligent archivists. With less than half an hour of music, and a 2006 interview with Maneri of about the same length, this is not for the casual listener. The sound quality is passable for a 45-year-old recording, but is less than great. Peace Concert is an important record, for those who recognize such importance.
Comments and Feedback: