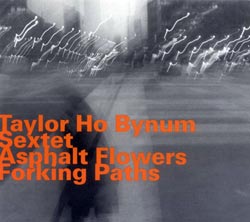 Constructed as a suite of sorts, Bynum evinces a good deal of influence from his mentor, Anthony Braxton (including the titular dedications of some pieces) while attempting to push matters further.
The album opens and closes with brief solo improvisations on cornet which, while well-played, are relatively conservative when compared to quasi-similar explorations from the likes of Greg Kelley or Axel Dorner. "Look Below" sounds almost as though it could have been lifted from a late 70s Braxton session, one of those boppish, Tristano-ish lines he liked to employ. It's good, buoyant fun though hardly forward-looking. Bynum's central thrust is embodied in the three-part suite bearing the ungainly title, "whYeXpliCitieS", dedicated to Braxton. Here, the instrumental coloration provided by Matt Bauder (tenor sax, bass clarinet), Jessica Pavone (viola), Mary Halvorson (guitar), Evan O'Reilly (guitar) and Tomas Fujiwara (drums) is used to fine effect, opening out the space in an enticing manner, creating vast amounts of air between the players. It strides a fine line between structure and improv, much as its dedicatee might have, though this also turns out to mean that, when it falls into "standard" free improvisation, the results, as on the tenor/percussion segment of the middle section, can tend toward the routine. It's the strings that provide the most excitement here, lifting the ensemble from the mundane up into more unusual and rewarding areas. The last third of the suite begins surprisingly, the guitars imitating steel drum tones and the piece itself referring to calypso, albeit more obliquely as it progresses, eventually morphing into a strong, heady brew, rolling along in a loping gate that recalls some of Bobby Previte's fine work from the early 90s. Similarly, "Goffstown" too has a taste of that heroic undercurrent found in Previte, a billowy, rumbling piece that summons forth images of distant storm clouds, Bynum's cornet taking on Wheeler-esque properties.
Despite the symmetry of the disc's construction, there's something of a grab bag feel to the pieces presented. While sometimes sounding like a run of the mill (though highly competent) free session, at its best it congeals into a solid, imaginative machine that bodes well for future investigations.
Comments and Feedback: