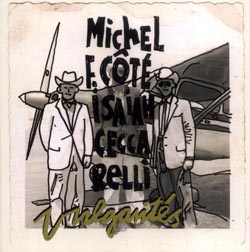 As more of a rhetorical, sarcastic ribbing than an actual query, Michel F. Côté and Isaiah Ceccarelli write, "What can we do when we're just two drummers?" Indeed how does a percussion duo entertain an audience for forty-six minutes without a visual aid, balancing all the elements of music into a satisfying listener experience? Côté and Ceccarelli capably do so with a contingent of boundless creativity, astonishing sounds, impeccable performances (both men are accomplished composers and performers who have been around many a Montréal block) and knowing when enough is just enough (the average track length is under four minutes).
Armed with kits, assorted junk drums, piano, pocket trumpet, "electronics", feedback and lap steel guitar, Côté and Ceccarelli busily cycle though the history (and future) of percussion techniques. Beginning with "tape" hum and drum head stretches on "Surmenage Brun", they quietly and anxiously tap on rims, pull adhesives off heads, drag brushes on snares, flick on/off brief mechanical belches and strike every possible angle of their gear. After a brief pause, the duo reworks the first half, replacing some of the acoustics with subtle electronic shadows and closing with a pondering, lugubrious sub-harmonic echo. Moving to a more metal aesthetic, "Grace Maussade" is a polyrhythmic melee of various Gamelan bells, scraped metals and all manner of prepared keyboard tinkering (string strums, wood knocks, mallet thumps etc.) versus a spacious, lethargic piano melody. "Nous, Les Troglodytes" is what would happen if Steve Reid and Kieran Hebden followed through with the direction they hint of on their recent collaborations: hyperactive Interstellar Space style free jazz drumming with a bed of glitching Hammond organ, generated harmonics and DSP keeping pace. Côté and Ceccarelli aren't simply about assault, however, and they show their range with "Las Du Futur", a tenuous drone formed from oscillating sine waves, melodic feedback, bowed cymbals and intriguing sonic detritus (i.e. wiggling noisy cables), and the chatter-driven, bass drum grumbling, pianissimo "Avantage De La Débilité".
Despite John Cage's work in the 1940s and Edgard Varèse's Ionisation (1930), the idea of "percussionist as band" is still often treated as a novelty — and, due to the excessive contraptions, toys and otherwise cacophonous instruments employed in most of the repertoire, this is often a fair label. But what happens when this equipment falls into the right hands? The answer is Vulgarités, an album that eschews the word "gimmicky" in favor of "virtuosity".
Comments and Feedback: