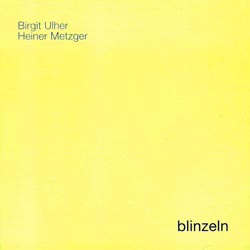 Birgit Ulher's trumpet is appearing in more and more places it seems, in contexts ranging from solo to rather large groups. A quick perusal of her website shows an impressive list of concerts and recordings. Heiner Metzger too has been around, though seemingly not as visibly. His "soundtable" here contributes a great many interesting and sometimes unrecognizable vibrations, and together these two are an intelligent and careful unit.
The disc begins with high-pitched feedback sounds joined by breaths, eventually evolving into prickly tiny-string plucks and weird rumbling, with some scratchy metal along the way. Electric drill and bowed dust pan seem to be the order of "gleicht", and "noch" is all spit-laden wind and overtones. The photos on Metzgers website show a table with all manner of bits of wood and metal clamped to it, as well as two wine glasses which he is playing by rubbing his wet fingers around the rims. Maybe I'm cheating, but now I know how at least some of these sounds are made. Or so I think...
The title track features more wind, along with some wooden, rachety sounds which eventually coalesce into door-squeaks and second-grade violin, which is not a bad thing. The shortest piece "jedem", is growling and buzzing against crackles and rubbings, yielding into metallic tumbling and soft sputtering. Intelligent and careful sound improv.
Comments and Feedback: